ODESSA High School, Odessa, TX
"CLASSES OF 1958 & 1959"
In Memory
Tommy Nickell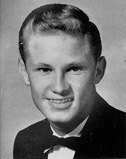 Tommy Ned Nickell, OHS 1958
Passing of OHS 1958 Classmate Tom Nickell and wife Sandra Faye Burrow Nickell (OHS 1963 -??)
UTAH - Tom and Sandra Nickell passed away on June 17, 2017. Born Tommy Ned Nickell on November 26, 1940 in Eunice, New Mexico, Tom grew up in Odessa, Texas. Sandra was born Sandra Faye Burrow on December 26, 1944 in Odessa, Texas. It wasn't until the late 70's that the newly single Tom and Sandra met. They were married on August 15, 1983 and moved away from west Texas. Tom and Sandra loved the outdoors and shared great affection for the high desert. Eventually, Tom and Sandra made Adamsville, Utah their home.
Sandra was a strong, independent woman who passed those traits to her daughter. She was a voracious reader and she liked her iced tea...sweeeeet. Tom showed his kids the many wonders of the outdoors. He was a pretty good fisherman, a decent hunter and one helluva storyteller. They loved, they were loved and they will be missed.
Sandra is survived by her daughter and grandson, Teena M. and Charles Nathaniel Noel. Tom is survived by his daughter and grandson, Kirstin and Kaden Nickell,
Published in Odessa American on July 2, 2017
Thanks to Jane Moore Bynum (OHS 1958) for letting our class of 1958 know of their passing.
---
Tom Nickel was the Editor of The Odessa American newspaper in the 1980's.