ODESSA High School, Odessa, TX
"CLASSES OF 1958 & 1959"
In Memory
Jerry Parkis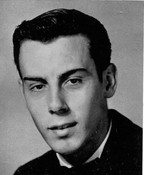 SIDNEY JERALD "JERRY" PARKIS, OHS 1958
(b. July 14, 1939 - - d. Feb 8, 2018)
PLAY VIDEOODESSA,
ODESSA,TEXAS - Sidney Jerald "Jerry" Parkis, 78, of Odessa passed away peacefully on February 8, 2018 surrounded by his loving family. Jerry was born on July 14, 1939 in Odessa, Texas. He was an Odessa High 1958 Graduate, served in the Army and attended Texas Tech.

He was the owner of Parkis Air Condition for over 40 years. He was a member of many local car clubs, including Hot Wheels Permian Basin, Permian Basin Oil Burners and AACA Midland Club.

Jerry is survived by his wife Cindy of Odessa, his children Jason Parkis and wife Darlene, Sydney Handy and fiancé Craig Parker, David Emmons and wife Erin. His grandchildren Trista, Zack, Evan, Alexis, Sid, Brooke, Bryce, Preston, and Julius. His great grandchildren Audri, Baylie, Dalton, and Gavin. His uncle Aubrey Wheless.

He is preceded in death by his parents Sid and Dorothy Parkis.

Visitation will be held at Frank W. Wilson Funeral Directors in Odessa, Monday, February 12, 2018, from 6:00-8:00p.m. Memorial Service will be held at Frank W. Wilson Funeral Directors on Tuesday, February 13, 2018 at 1:00p.m.

Condolences may be offered at www.frankwwilson.com. Services are entrusted to Frank W. Wilson Funeral Directors.
Published in Odessa American on Feb. 11, 2018