ODESSA High School, Odessa, TX
"CLASSES OF 1958 & 1959"
In Memory
Myrna Lynn Murr (O'Dey)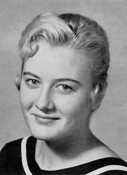 Myrna Murr O'Dey
Learn about sponsoring this memorial...

Birth:
Jul. 3, 1940
Odessa
Ector County
Texas, USA
Death:
Jul. 21, 2005
Anaheim
Orange County
California, USA

Services were held for Myrna Murr O'Dey at 11 a.m. Wednesday, July 27, at Melrose Abby Cemetery.
She grew up in Odessa and graduated from Odessa High School. She lived in California for 45 years and had been retired from Pacific Bell for 10 years.
She was preceded in death by her mother, Esther Simon Murr; her father, Steve Murr; and brother, Steve Murr Allman.
Her survivors include her husband, Chuck O'Dey; children, Carrie, Laurie, Chuck Jr., and Keli and husband, Everett of Anaheim, Calif.; sisters, Carolyn Murr Thomson and husband, Don, of Alpine, and Jan Murr Cook and husband, Frank, of Odessa; grandchildren, Stephanie and Jennifer; and other loving relatives.
We will all miss her.

Burial:
Melrose Abbey Memorial Park
Anaheim
Orange County
California, USA

Created by: Mick from Tx
Record added: Aug 03, 2005
Find A Grave Memorial# 11474028


Added by: Mick from Tx

Cemetery Photo
Added by: Grover1962
Photos may be scaled.
Click on image for full size.