ODESSA High School, Odessa, TX
"CLASSES OF 1958 & 1959"
In Memory
Joseph "Lanny" Moore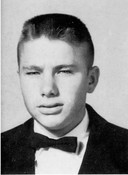 ODESSA
Joseph Landon "Lanny" Moore, Jr
. was born Sept. 18, 1939. The first of four children born to J.L. "Pete" and Nettie Moore, he was a lifelong resident of Odessa.
He was a 1958 graduate of Odessa High School and attended Odessa College. He was a member of the Professional Golfers Association of America and a member of Crescent Park Baptist Church.
Lanny loved to work on and ride his Harley-Davidson panhead. Riding the roads of West Texas and Southeast New Mexico gave him a lot of joy.
As much as he loved to ride, his real passion was his family. He loved his nieces and nephews. He played the part of Santa Claus at Christmas and would stop by the daycare at times just to check on them. He was a good brother to his sisters and brother as well as a good friend. He was never too far away to help when help was needed.
Lanny went to be the Lord on Monday, March 29, 2010.
He is survived by one daughter, Dayma and husband Justin Gilliland; three granddaughters, Jordan, Molly and Randi, all of Nocona, Texas; two sisters, Charlene and husband Roy Howell, Peggy and husband Rick Westfall; one brother, Larry Dean Moore, all of Odessa; and Lanny had eight nieces and nephews.
The family will receive friends on Wednesday, March 31, 2010, from 6 p.m. to 8 p.m. at Frank W. Wilson Funeral Directors.
Graveside services will be 10 a.m. Thursday, April 1, 2010, at Resthaven Memorial Park.
The family would like to express our gratitude to all of the many caring and loving people at Seabury Nursing Center and Compass Hospice.
Services are entrusted to Frank W. Wilson Funeral Directors.
Published in Odessa American on April 1, 2010