ODESSA High School, Odessa, TX
"CLASSES OF 1958 & 1959"
In Memory
Joe Buice (Teacher)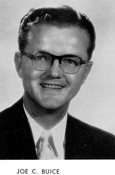 Deceased OHS Teacher.
Odessa Joe Carl Buice, 78, passed away peacefully April 8, 2007, at his residence.
Joe was born January 9, 1929, in Waco, Texas. He married Lee Rhoads on June 18, 1965, in Denton, Texas. His parents, Louie Ewing and Joe Henry Buice preceded him in death, as did a sister Millie Johnson.
After graduating from Waco High School, he went to Business College where he became proficient in shorthand and typing. Those skills served him well in naval service where he recorded court marshals and published the ship?s daily paper. He served our country through the Navy on board the USS Curtiss from 1948-1952. Joe attended Baylor University where he obtained a Bachelor of Arts degree in English. He also attended the University of Colorado in Boulder, CO, where he earned a Masters of Education and then went on to gain a Masters of English at the University of Texas in Austin, Texas. Finally, he was awarded a Ph.D. Degree in English from East Texas State University. Through the National Endowment of the Arts, he completed postdoctoral studies at both the University of California at Berkeley and the University of Mississippi in Oxford, Mississippi.