ODESSA High School, Odessa, TX
"CLASSES OF 1958 & 1959"
In Memory
Carl Maddoux (Teacher)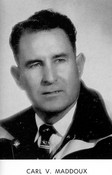 ODESSA :Carl Victor Maddoux, died Sunday, April 30, 2000, after a lengthy illness. Mr. Maddoux was born to Alberta Ashworth and John West Maddoux on the 27th day of August 1917, in the piney woods of Harris County. He moved to Odessa in 1951 and became the vocational agriculture teacher at Odessa High School for 35 years. Mr. Maddoux retired from teaching in 1988 and remained in Odessa during this time.

He was the father of three children, Jerry Mark "Buddy" Maddoux, deceased; daughters, Lana "Sam" Narey of Lubbock and Carla L. Maddoux of Odessa. He also is survived by a former wife, Dean Maddoux of Lubbock; and two granddaughters, Elaine Cogburn and husband, Gary Cogburn, of Lubbock, and Lorrie Ault and husband, Steve Ault, of Loganville, Ga. He is also survived by three great granddaughters, Natanie Cogburn of Lubbock and Taryn and Taylor Ault of Loganville, Ga. Mr. Maddoux also is survived by the many, many students he taught over the years and will be missed greatly by family and friends alike.

Services will be held at 2 p.m. today at Hubbard-Kelly Funeral Home Chapel with Rev. Bill Heard officiating. Interment will follow at Sunset Memorial Gardens. Services entrusted to Hubbard-Kelly Funeral Home.