ODESSA High School, Odessa, TX
"CLASSES OF 1958 & 1959"
In Memory
Doyne Dugger (Ector'58)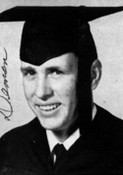 DOYNE R. DUGGER (Ector, 1958, Attended OHS in 1956, 1957)

Doyne R. Dugger, age 71, of Comanche, Texas passed away on Friday, December 9, 2011, at Western Hills Healthcare Residence in Comanche.
A private service will be held at a later date.
Comanche Funeral Home is in charge of arrangements.
View and sign the guest book at www.comanchefh.com.
Published 12-15-2011 in the Comanche Chief newspaper
http://www.thecomanchechief.com
---
December 15, 2011, 2:22 pm
Doyne R. Dugger, (Ector 1958, OHS 1956, 1957) passed away on 9 December, 2011. We were very close in our younger years, but lost touch after we were discharged from the Navy. Thought classmates might want to be aware..........Eugene Drennan, gjdrenn@ yahoo.com
---
From Eugene Drennan, 12-16-11; 9:55 am
---