ODESSA High School, Odessa, TX
"CLASSES OF 1958 & 1959"
In Memory
Patricia Joy Kennelley (Colston)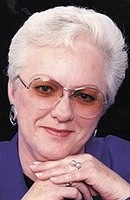 Patricia Joy Colston


ALBUQUERQUE, N.M. - Patricia Joy Colston, age 68, passed away peacefully with her children at her side on Aug. 29, 2008 from complications of pneumonia.
Joy was the daughter of Leslie and Hazel Kennelley. Born in Madera, Calif. and raised in Odessa, Texas with her elder brother, Jack (Denver, Colo). She married Lonnie E. Colston in 1961 and later divorced in 1975. She was later married to Jerry Coward for several years and he later passed away from a terminal illness.
She was a very loving mother, grandmother, sister and friend to those who knew her. She loved to dance and was very good at it. She enjoyed sewing, crafts, cake decorating, watching bull riding on TV and most of all reading. Murder mysteries were her favorite. Patricia Cornwell was one of her favorite authors.
While married to Lonnie, she learned to appreciate traveling as his job took them from from state to state and, as a result, she was able to live in the majority of the southern U.S. during their marriage.
She later lived in Aberdeen, Scotland, for three years and traveled to different countries throughout Europe while there. She loved all the "green" in Scotland. From the beautiful grasses, trees and landscape to the mountains so brilliant with color.
In 1979, she moved to Albuquerque, N.M. as her brother and his family lived there and she has always loved the Indian culture and beauty. She felt at home there.
Joy is survived by her brother, Jack (Chris) Kennelley of Denver, Colo.; her children, Leslie (Robert "Tuffy") Howard of Price; Lonnette Graham of Albuquerque, N.M.; Lonnie E. Colston of Albuquerque, N.M.; grandchildren, Shiloh Howard Herr of Spanish Fork; Josh (Kristie) Howard of Elko, Nev.; and Sydnee Graham of Albuquerque, N.M.; and great-grandsons, Blaze Howard of Elko, Nev.; and Ethan Herr of Spanish Fork; as well as numerous nieces and nephews. She is expecting a third great-grandson in November. She was preceded in death by parents; and nephew, Chuck Downey.
Joy was cremated on Sept. 2 in Albuquerque, N.M.
Any form of condolences for the family may be submitted to Leslie Howard, 780 W. 400 North, Price, UT 84501
Joy was a supporter of the St. Judes Hospital and the family asks that donations be made in her memory.

---
(Received April 2, 2010, from Leslie Howard, daughter)
Patricia Joy Kennelley Colston (1940-2008)
Deceased Classmate: Younger sister of Jack Kennelley (OHS 1956) who died 10-2009.
Date she Deceased: August-29-2008
Age at Death: 68
Cause of Death: Diabetes/Complications from pneumonia
Classmate City: Albuquerque
Classmate State: NM
Classmate Country: USA
Survived By: Children Leslie Colston Howard, Lonnette Colston Graham, Lonnie Colston, Grandchildren Shiloh Howard, Josh Howard, Sydnee Graham and 3 great grandchildren.

Jack Kennelley is my uncle. I HAD to pick a "classmate" so I chose my uncle. I hope you will list my Mom in the appropriate place. Thank you. This is my mother. I could not find her name on your list. Her name is Patricia Joy Kennelley Colston. She is Jack Kennelley's little sister. I remember her telling us of stories when she dated Roy Orbison and used to hang out with her brother's bandmates at rehearsals. Johnny Cash and Luther Perkins would show up and they all had great times together. She loved music! That carries on through her children and grandchildren. Before dementia took over, she used to craft and go shopping with the grandkids. She loved to have her favorite Mexican food Chili Rellenos. Her potato salad can't be beat! Thank you for this beautiful website. Our Mom would be proud.


This message has been sent to you from wikdnailz@yahoo.com. You can not reply directly. Click here if you wish to start a new email to wikdnailz@yahoo.com.