ODESSA High School, Odessa, TX
"CLASSES OF 1958 & 1959"
In Memory
Larry Thomas Brewster (1960)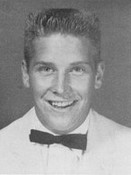 Larry Thomas Brewster (Sep 1, 1941 to Jul 3, 2009)

From: Punki Brewster
Email: punkib@cox.net

My husband of 44 years (Larry Brewster) was a 1960 OHS graduate. He passed away July 3, 2009 from cancer. I tried to list him with your "In Memory" section, but it would not allow me to do that. We attended the 30th and 40th Reunions. He was proud to be an OHS graduate and had many fond memories.

IP Address: 70.185.205.249

This message has been sent to you from punkib@cox.net. You can not reply directly. Click here if you wish to start a new email to punkib@cox.net.
---