ODESSA High School, Odessa, TX
"CLASSES OF 1958 & 1959"
In Memory
Freddy B. Baker (1957)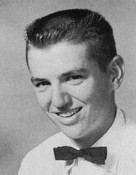 Fredric Bryant "Bear" Baker
ODESSA Fredric "Bear" Bryant Baker, age 73, of Odessa, passed away peacefully on Monday, July 25, 2011 after a lengthy illness.

Fred was born on June 8, 1938 in Odessa, Texas. He graduated from Odessa High School (1957) and then attended Texas A & M. After college, he began working in the oil fields and eventually ran his own business. His work took him overseas, and he also travelled extensively throughout the United States.

Fred will be remembered for his generous spirit and his outgoing personality. He had a compassionate heart for people and always tried to help those who were hurting and needed assistance. He loved kids and animals. He was a member of the Church of Christ.

Fred was preceded in death by his parents, Jack Baker and Polly Baker.

He is survived by his cousin, Jan Blumentritt and husband Charles Sponsel of Odessa; his cousin Gary Bryant and wife Kay Bryant of VanCleave, Mississippi, his aunt Naomi Bryant Dixon and husband Carl Dixon of Beeville, Texas; his cousin, Lisa Chavez and husband Joey Chavez of Arlington, Texas and his beloved dog, Spirit.

The family would like to express their gratitude to Deerings Nursing Home for the excellent care they provided for Fred during his illness. We also greatly appreciate the assistance given by Covenant Outreach.

Private graveside services were held at Sunset Memorial Gardens. Memorials can be made to the Humane Society of Odessa, 7012 W. Mockingbird Lane, Odessa, Texas 79763 or The Salvation Army, 810 E. 11th, Odessa, Texas 79761.

Funeral arrangements are under the direction of Sunset Funeral Home. To sign the guest book, go to our website at www.sunsetodessa.com.
Published in Odessa American on July 27, 2011
---