ODESSA High School, Odessa, TX
"CLASSES OF 1958 & 1959"
In Memory
Joyce Cooper (Porter)
Joyce Cooper Porter, OHS 1958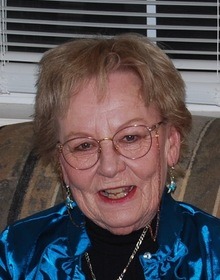 PASSING OF OHS 1958 CLASSMATE "Joyce Cooper Porter"
Beloved mother and wife, Joyce Marie Porter, age 79, passed away on May 11, 2019.
Joyce was born March 31, 1940 in Odessa, Texas to Herbert and Carrie Cooper.
Joyce graduated from Odessa High School in 1958 and went on to attend East Texas State College in Commerce, TX. She was an exceptional mother and enjoyed all things that grow, camping, travel, and spending time with her family. She married her husband of 59 years, Charles A. Porter, on June 11, 1960 in Odessa, Texas. They had their first son, Greg, in 1965, followed by their second son, Blake, in 1967, and their third son, Andy, in 1970. She moved with her husband and family to Cheyenne in 1973 where she worked for various private organizations and the State of Wyoming. Their only daughter, Carrie, was born in 1976. Joyce and Charlie opened their own business in 1998, CAP Environmental Services, which they operated until their retirement in 2012.
Joyce is survived by son, Greg and wife, Robin; son, Blake and wife, Kim; Daughter, Carrie; grandsons, Alec and Drew Porter; sister, Lelia "Kay"; and brothers, Herb and Jim.
She is preceded in death by her husband, Charles in 2019; younger sister, Julie in 1998; and son, Andrew in 1970.
The family will hold a private ceremony later this summer. Cremation is under the care of Schrader, Aragon and Jacoby Funeral Home.
In lieu of flowers, donations may be made to the Parkinson's Foundation.
https://schradercares.com/book-of-memories/3848110/Porter-Joyce/?fbclid=IwAR3XwVNzkV7m0p6J6tY-gdXW6eOP7MK8eMitNGCFAQ6WWot4xupZg1NN-k8