ODESSA High School, Odessa, TX
"CLASSES OF 1958 & 1959"
In Memory
Charles Allen Carrigan (1959)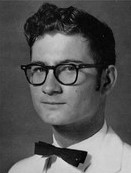 LONGVIEW Charles Allen Carrigan went to Heaven Saturday, March 3, 2012. He was surrounded by his loving family. Mr. Carrigan was born January 4, 1941, in Phoenix, AZ to Allen L. Carrigan and Frances Marie Laverty.
He was the best "Papa," husband, dad, Cuz, Bubba and friend to many people in his life. He loved anything outdoors, fishing, animals, watching his grandkids play and spending time with family and friends. Mr. Carrigan was retired from Dynegy, where he was employed for 23 years. Anyone that knew him, knew he was always happy and joking around getting everyone that was with him to laugh.
We can't wait to meet him again in Heaven one day at that fishing hole we all know he has already baited out!
He is survived by his wife, Loraine Carrigan of White Oak; son, Randy Carrigan and wife Maureen of White Oak; daughter, Tina Wilson and husband Barry of Throckmorton, TX; daughter, Tanya Holman and husband Randall of Gladewater; daughter, Shelli Maines and husband Matt of Allen; brother, Mike Carrigan and wife Sharyn of Odessa; brother, Wayne Carrigan and wife Evie of Odessa; sister, Patrice Alldredge of Odessa; grandchildren, Lori Wilson, Lisa Wilson, Wesley Wilson, Colton Holman, Miller Maines and soon to be baby Lawsyn; 7 great-grandchildren; many nieces, nephews and a special best friend and "Cuz," Jimmy Carrigan and wife Dorothy of Corsicana.
He was preceded in death by his parents and brother-in-law, Bill Alldredge.
Funeral services for Mr. Carrigan will be held at 2 p.m. Tuesday, March 6, 2012, at the Spring Hill Assembly of God Church, Longview with Pastor Ronnie Shipman officiating. Burial will follow in the New White Oak Cemetery under the direction of Rader Funeral Home of Longview. Visitation was held from 6 to 8 p.m. Monday at the funeral home.
A memorial guestbook may be signed at
www.raderfh.com.
Published in Odessa American on March 6, 2012
---