ODESSA High School, Odessa, TX
"CLASSES OF 1958 & 1959"
In Memory
Alford L. Rushing (Teacher)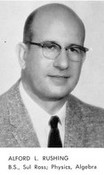 ODESSA Alford (Al) L. Rushing, Jr. passed away at his Odessa residence on Monday, May 7, 2012. He was 92 years of age and a long-time resident of Odessa. Al was born in Putnam, TX to the late Alford L. Rushing, Sr. and Clara Patton Rushing on July 16, 1919. After spending much of his early childhood years in the Dallas area, Al and his family moved to Odessa where he graduated from Odessa High School in 1936. The following year, he enrolled in Sul Ross State University in Alpine, TX to pursue a degree in mathematics while working part time to fund his college education. Completion of his degree was interrupted by
World War II
.
During WWII, Al joined the
Army
Air Corps. (predecessor of the Air Force) where he was a Chief Warrant Officer serving with distinction as a meteorologist in the 15th Weather Squadron, Fifth Air Force in the Pacific Theater of Operations. He spent time in both Australia and the Philippines before the war ended. He was than recalled for service in the
Korean War
where he again served as a meteorologist. Following completion of his duty in Korea, Al was honorably discharged from the service in 1955 with the rank of Master Sergeant.
Between the end of WWII and the beginning of the Korean War, Al completed his Bachelor of Science degree in Mathematics from Sul Ross in 1946. Following his discharge from the service, Al began a long, distinguished career as a teacher of mathematics and science. He taught at Odessa High School until 1959 when he was transferred to Permian High School where he helped create the first Mathematics Department. He retired from teaching in 1985.
Al was married to Alice Teague in 1946. They recently celebrated their 66th anniversary in January of this year. Al is survived by his loving wife; his three children, Lovis Rushing and husband Allen Fowler, Lauren Reforth and husband Jack, and Jay Alan Rushing; his three grandchildren, Scott Fowler and wife Melisa, Amy Michelle Fowler, and Jayson Renforth and wife Arianne and two great-grandchildren, Justin Phillips Fowler and Kobie Fowler, and a niece Patsy Rushing. He is preceded in death by his mother and father; his brother, Ralph Pat Rushing, and a grandson, Ray Don Fowler.
Funeral services are open to the public and will be held at Hubbard-Kelly Funeral Home in Odessa at 2:00 pm on Thursday, May 10. Graveside services, which will be limited to immediate family members only, will be held at Sunset Memorial Gardens, also in Odessa. Visitation is scheduled from 6:00 pm to 8:00 pm on Wednesday, May 9 at Hubbard-Kelly Funeral Home.
Services are entrusted to Hubbard-Kelly Funeral Home.
Published in Odessa American on May 9, 2012
---
---