ODESSA High School, Odessa, TX
"CLASSES OF 1958 & 1959"
In Memory
Craig Otis Canon (1957)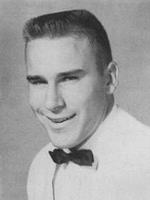 CRAIG OTIS CANON, OHS 1957.
CANON, Craig Craig Otis Canon died on March 12th after a long, difficult struggle with cancer. A Texan to the core, Craig was born on January 2nd, 1939, in Odessa, Texas to Robert Otis Canon and Ragna Conn Canon. Growing up in west Texas, he played high school football and basketball for Odessa High and made the Honorable Mention, All-State basketball team his senior year. Despite his many travels, he never lost his Texas twang no matter where he lived. Craig attended The University of Colorado where he received a degree in Geology and went on to receive a Master's in Finance at the University of Texas in Austin. Craig married his college sweetheart, Judy Canon, and they had a wonderful, soul-centered marriage for 57 years. Judy was Craig's ultimate passion, and he enjoyed nothing more than spending time with her, and sharing the "journey of life" with his dearest love. As an entrepreneur and developer, Craig owned, expanded and sold multiple companies and developments throughout his career. He built the Corner Shopping Center, and he was the founder and owner of Vertex Financial for 25 years. Craig loved the outdoors. Skiing, mountain climbing and hunting were just of a few of the sports he enjoyed. He climbed over 1/2 of the Colorado 14eners, climbed Mount Rainer, heli-skied in Canada and hunted all over the world. Craig loved people and saw the best in them. He adored his wife and family, and always placed them as a top priority. He was so proud of his son, Scott Canon, and they shared many of the hunting and skiing adventures together. And one of Craig's joys was having his daughter, Kit Willock, work with him at Vertex Financial for five years. Moreover, spending time with his precious grandchildren, Katie, Elizabeth, Virginia, Rett and Kay, gave him such pleasure. Craig loved being generous with his time and money. It was his legacy. He took great satisfaction in mentoring and serving a myriad of people throughout his life. Many benefited from his wisdom in business and his love and guidance. Serving on St. Michael's Vestry as Senior Warden and volunteering with Steven's Ministry and the Dallas Jubilee Center brought Craig much joy and gratification. He and Judy also helped sponsor numerous students with their college education. Craig loved life, and he lived it to the fullest, loving people along the way. One of his famous mottos was, "Life's short; eat dessert first." He is survived by his loving wife, Judy; his son and daughter-in-law, Scott and Mary Elizabeth Canon; his daughter and son-in-law, Kit and Karl Willock and his five wonderful grandchildren: Katie, Elizabeth and Rett Canon, Virginia Bertrand and Kay Willock. A memorial service will be held at St. Michael's and All Angels Episcopal Church on Monday, March 26th at 4pm. In lieu of flowers, donations may be made to the Dallas Jubilee Center at 907 Banks St., Dallas, TX 75223 http://www.jubileecenter.org, Educational Opportunities at 3419 Westminster Ave., Ste. 218, Dallas, TX 75205 or St. Michael's Foundation at 8011 Douglas, Dallas, TX 75225 http://www.saint michael.org . The family would like to thank Vanessa Cavette and Maria Martinez for the loving care they provided Craig, and a warm thank you to all the wonderful people at Faith Presbyterian Hospice who took such good care of Craig.
Published in Dallas Morning News from Mar. 17 to Mar. 18, 2018